InstEd is a Free msi editor built for professionals.
Over 100,000 downloads and counting.
Independently reviewed and awarded the 5 star editor's pick.
Certified free of ad and malware.
Try InstEd Plus with free 30 day trial period!
Apr 30, 2012 - New versions released of InstEd (1.5.15.26) and InstEd Plus (1.1.9.10).
See the System Viewer and smart field editors in InstEd Plus.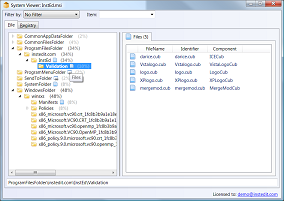 Release notes for InstEd here.
Release notes for InstEd Plus here.



InstEd makes working with files fast and easy.
Build cabs from the Media table. Right click a Media table entry to see the files belonging to that cab, or to rebuild the cab.
Multi-file editing using tabs. Built from the ground up to handle multiple files, everything from searching to validation can be applied to more than one file at a time.
Easy navigation. All relationships within the database are displayed and clickable for easy navigation.
Accurate editing. Changes to a field are optionally cascaded to all dependent fields. So, for example, renaming a component can have all references updated.
Change highlighting. All changes to an mst are highlighted. Msi files can be compared to highlight the differences. And by comparing an msi to itself while the msi is being edited, change tracking can be performed on an msi.
Easy validation. Validation profiles allow full flexibility to apply ICEs from more than one CUB to many files at once, allowing for easy Quality Assurance of many files at once.
Transform Chaining. See at a glance all the changes that a sequence of transforms make.

Using InstEd is a joy. It was rock solid and did exactly what I needed. It was also very fast. Much faster than Wise.
- Application Packager, ZettaServe
I think its now safe to uninstall Orca.
- Application Packager